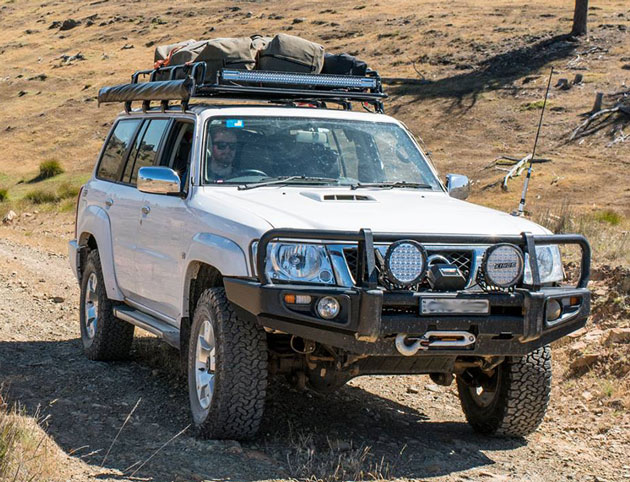 ROADBON4WD BULL BAR
Get the most out of your adventures, whether you're conquering rocky terrain riding the rugged trails,traversing over streams and hills, tromping through sand dunes, or anything in between by adding this supremely tough front off-road bumper.

Made from premium grade materials, this bumper provides brutally epic strength to safeguard your steel stallion's front end against stones, mud, dirt, other bumpers and everything in between you may encounter during your serious off-road adventures.
This finest piece of body armor will not only stand up to the punishment of the road, but also add a sleek, aggressive appearance to your vehicle that you're after.
Combining style with function, this front bumper is a perfect choice for your off-road companion.
For the serious 4x4 user, a bull-bar is more than just a protective device. It must also serve as a stable mount for a variety of ancillary equipment such as lighting and radio communications aerials. It also has to be tough enough to carry an electric recovery winch. Modern alloy bull-bars often take the form of a toughened replacement of the vehicle's standard front bumper, providing the protection of a bull-bar while preserving the lines of the vehicle. At Roadbon4WD, we can supply bull-bars for most 4WD, and advise you on the right solution to your needs.
Taking into consideration the natural lines of the vehicle and giving the vehicle a look and feel that it so rightly deserves. Anyone can make a Bullbar but not many apply the design philosophy that professional . A well designed bar is a fine balance between strength, overhung weight and aesthetics and we put a lot of effort into getting this balance correct.
What do I need to look for in a good bullbar?
Finding the right accessories for your vehicle is always a tough decision, and with bull bars it's no different. There is a never ending range of bullbars out on the market, but narrowing them down is simple when you compare them to this list below. All the bullbars that we sell, follow and adhere to these following items.
→The bar does not affect your new vehicle warranty.
→Strong enough to protect you and your family.
→Made from high quality material.
→Compatible with any aftermarket accessories you will require.
→Compatible with important factory accessories like, front parking sensors.
→The look, feel and function of the bar, should not affect your vehicle.